Description
THIS IS A PRE-ORDER FOR FROSTHAVEN, WHICH HAS A PLANNED RELEASE IN SUMMER 2021.
AS A BONUS, ALL FROSTHAVEN PRE-ORDERS WILL INCLUDE THE SOLO SCENARIO ADD-ON PACK, A $15 VALUE.
FOR STORE PICK-UP ONLY — NO SHIPPING.
The only outpost in the harsh northern region of the world is on the brink of destruction.  Harried by vicious and mysterious threats on all sides, Frosthaven would nee great warriors and leaders to survive the coming winter…
Unfortunately, all it has is you — a group of haunted wanderers with nowhere left to go.  Can you fight back the invaders and build a thriving community, or will the frost claim it all?
Frosthaven is the story of a small outpost far to the north of the capital city of White Oak, an outpost barely surviving the harsh weather as well as invasions from forces both known and unknown. There, a group of mercenaries at the end of their rope will help bring back this settlement from the edge of destruction.
Not only will they have to deal with the harsh elements, but there are other, far more dangerous threats out in the unforgiving cold as well. There are Algox, the bigger, more yeti-like cousins of the Inox, attacking from the mountains; Lurkers flooding in from the northern sea; and rumors of machines that wander the frozen wastes of their own free will. The party of mercenaries must face all of these perils, and perhaps in doing so, make peace with these new races so they can work together against even more sinister forces.
Frosthaven is a standalone adventure from the designer and publisher of Gloomhaven that features sixteen new characters, three new races, more than twenty new enemies, more than one hundred new items, and a new, 100-scenario campaign.  In addition to having the well-known combat mechanisms of Gloomhaven, Frosthaven will feature much more to do outside of combat, such as numerous mysteries to solve, a seasonal event system to live through, and player control over how this ramshackle village expands, with each new building offering new ways to progress.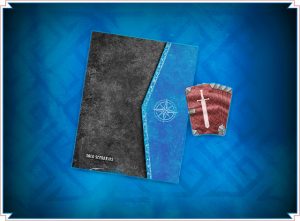 As a bonus, the Solo Scenarios add-on is included free of charge for all pre-orders at Around the Table, a $15 value!
Master all 16 of the Frosthaven classes with this all-new set of scenarios and item rewards. Each scenario is dedicated to a specific class and designed around their strengths and weaknesses to provide the ultimate challenge.
Players: 1 – 4
Time: 30 minutes per Player
Ages: 14+
Contents:
1 map board
1 rulebook
2 scenario books
1 puzzle book
5 Sticker Sheets
1 Element Board
1 Punchable Campaign Board
1 Punchable Alchemy Board
4 Hit Point & Experience Dials
17 character miniatures
30+ map tiles
24 plastic stands
6 monster stat sleeves
5 Attack Modifier Decks
36 Personal Quests
160 Event Cards
40 Battle Goals
30 dungeon cards
48 loot cards
15+ Random Scenarios
250+ Tokens (Conditions, Loot, Damage)
50+ Monster Groups, Stat Cards, and Ability Decks
100+ Overlay tiles
200+ Item Cards